Basement Foundation Beams
Basement Foundation Beams Milwaukee Relies on for Foundation Support
Basement Bowed Wall Solutions
Over time, the concrete or stone foundational structure of your home may experience foundation issues. The majority of homes in the Milwaukee area are built on concrete block foundations. Properly installed, these are as strong as poured concrete, but can crack and shift over time. Foundation repairs are typically needed as a result of improper basement waterproofing in Milwaukee, or a lack of grading around the home, which leads to water intrusion. Heavy rain and inadequate drainage systems cause a variety of foundation issues, including basement bowed walls. The damage is compounded by the freeze-thaw cycles we have in our area.
Causes of Bowing Walls in Basement
The soil around your home will absorb water,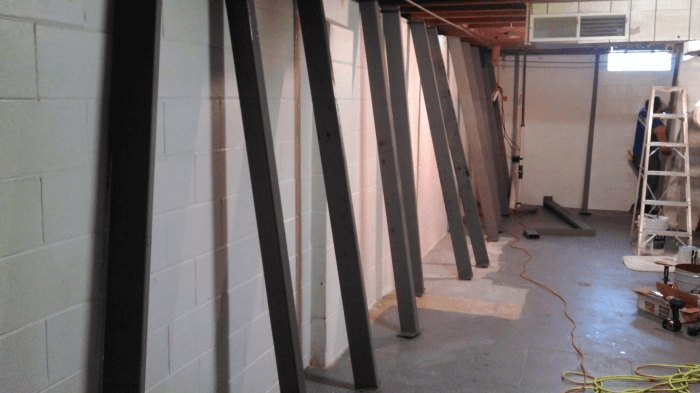 thereby expanding and pressing against your foundation with enormous pressure. This can cause the walls to push inward, which can result in basement wall cracking or even boewed walls. In its early stages, wall bowing is easily repaired and should be addressed by MUDTeCH's foundation repair experts as soon as it becomes evident. The earlier you treat your bowed walls, the better protection you have against more severe foundation issues. If you are noticing bowed basement walls in your Milwaukee area home, contact MUDTeCH ™ for affordable foundation repair solutions.

Milwaukee Stabilization Beam Installations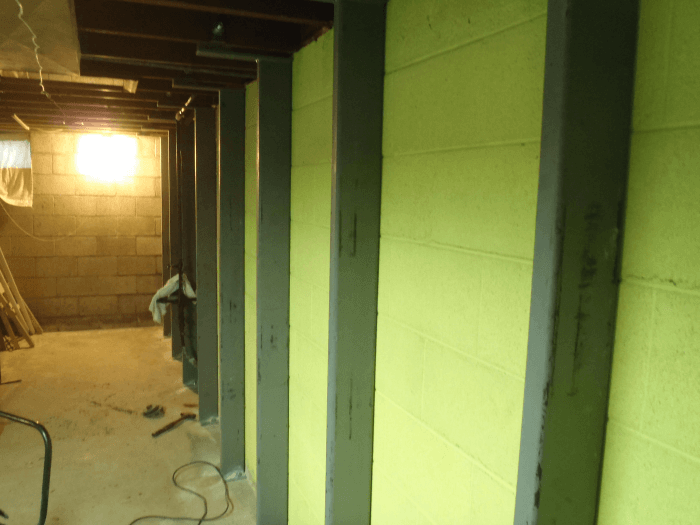 Stabilization beam installation provides maximum support for your basement walls. If your wall has shifted less than 3/4", beam stabilization is an excellent option to prevent future shifting. Our foundation repair experts will secure the beams to your walls and connect them to the floor joists above.
Your basement's foundation is the structural integrity of your home, without it your home would not exist. If you have basement bowed walls, our Milwaukee foundation repair specialists recommend taking immediate action. Stabilization beams are a cost-effective solution to prevent future costly repairs, and they come with a 20 year guarantee.
Complete Basement Repairs and Crack Injection in Wisconsin
If you already have bowed walls in your basement, our basement wall repair services will restore them before installing new foundation beams. Our expert contractors will find all the weak points in your basement walls and fix them before they have become bigger problems. This includes crack injection to stop existing cracks from spreading. A single crack in concrete can lead to basement flooding and a weakened foundation. We inject epoxy and urethane foams capable of expanding and contracting with concrete.
MUDTeCH invites you to check out this successful commercial helical pier installation. Our helical piering contractors provided a permanent deep foundation solution for this industrial building. From asphalt repair and sealcoating to concrete installations and basement waterproofing, you can depend on MUDTeCH.
View Our Project Gallery
Bayside, WI
Bay View, WI
Beaver Dam WI
Belleville WI
Beloit WI
Brodhead WI
Brookfield WI
Brown Deer, WI
Burlington WI
Butler, WI
Caledonia, WI
Cedarburg WI
Clinton WI
Columbus WI
Cross Plains WI
Cudahy, WI
DeForest WI
Delafield WI
Delevan WI
East Troy WI
Edgerton WI
Elkhorn WI
Elm Grove, WI
Evansville WI
Fitchburg WI
Fort Atkinson WI
Foxpoint, WI
Franklin WI
Germantown WI
Glendale, WI
Grafton WI
Greenfield WI
Greendale WI
Hales Corners, WI
Hartford WI
Hartland WI
Horicon WI
Janesville WI
Jackson WI
Jefferson WI
Juneau WI
Kenosha WI
Kewaskum WI
Lake Geneva WI
Lake Mills WI
Lannon, WI
Lisbon, WI
Lodi WI
Madison WI
Marshall WI
Mayville WI
McFarland WI
Menomonee Falls WI
Mequon WI
Middleton WI
Milton WI
Milwaukee WI
Monroe WI
Mukwonago WI
Muskego WI
Mt. Horeb WI
New Berlin WI
Oak Creek, WI
Oconomowoc WI
Oregon WI
Ozaukee WI
Paddock Lake WI
Pardeeville WI
Pewaukee, WI
Pleasant Prairie WI
Port Washington WI
Portage WI
Poynette WI
Racine WI
River Hills, WI
Saukville WI
Shorewood, WI
Slinger WI
South Milwaukee WI
St. Francis, WI
Stoughton WI
Sturtevant WI
Sun Prairie WI
Sussex WI
Theinsville, WI
Twin Lakes WI
Union Grove WI
Verona WI
Waterford WI
Waterloo WI
Watertown WI
Waukesha WI
Wauwatosa WI
Windsor WI
Winthrop Harbor WI
West Bend WI
West Allis WI
Whitefish Bay, WI
Whitewater WI
Williams Bay WI
Antioch IL
Belvidere IL
Grayslake IL
Gurnee IL
Harvard IL
Lake Forest IL
Lake Villa IL
Loves Park IL
Machesney Park IL
McHenry IL
North Chicago IL
Poplar Grove IL
Rockford IL
Rockton IL
Roscoe IL
South Beloit IL
Wadsworth IL
Waukegan IL
Winnebago IL
Zion IL